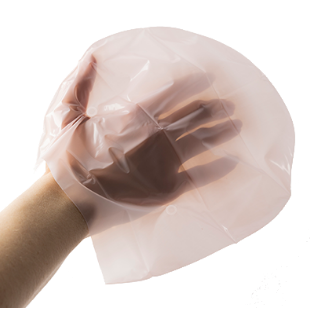 What is Breast Care Glove?
The Breast Care Glove is a glove that helps to make self-examination of breast by increasing the sensitivity of fingers. When wearing the Breast Care Glove, the fingertips become extra-sensitive, enabling highly effective palpation.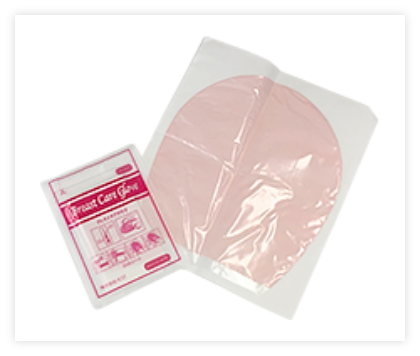 Doctors generally recommend applying soap in the bath, to make the skin smooth and slippery, before conducting self-palpation. But with the Breast Care Glove, you don't have to wait for bath-time. You can easily perform self-palpation at your convenient place and time.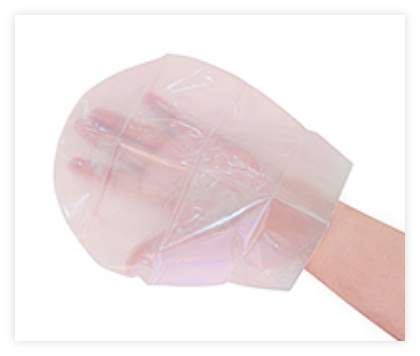 Key Features of Breast Care Glove
1.

Simply put on the Breast Care Glove to perform this simple check. It's easy to use anytime.

It's easy to use anytime.

2.

The Breast Care Glove uses an ethyl vinyl acetate (EVA) composite that

adheres closely to the skin.

3.

The glove is made of a powder-free material, so it is

free of allergens and proteins

that can dirty or irritate the hands and skin.
The Breast Care Glove is disposable, generating no dioxins when incinerated.
Because it can be used anywhere, the Breast Care Glove supports a wide range of palpation methods.
How to use Breast Care Glove
Conduct a Visual Check
1.Lift up both arms and check for any changes in the shape, size, etc. of the left and right breasts, areolas and nipples.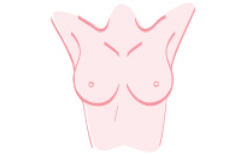 2.Place your hands on your waist and move your arms back and forth, stretching and shifting your breasts this way and that to detect any changes in the breast tissue.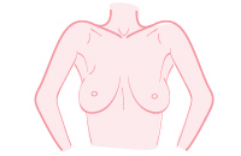 Check by Hand
Put on the Breast Care Glove, and check the entire mammary gland, starting from the armpit, with your three fingers drawing a circle. Verify that the feeling is the same as at the last self-palpation and that no hard spots are found.
Squeeze the breasts and nipples to check that no secretion comes out.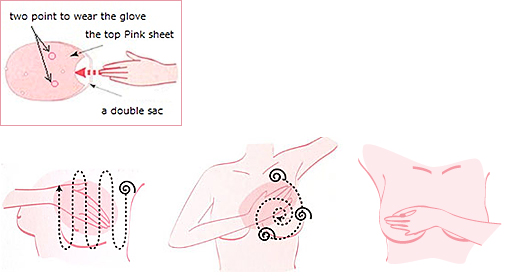 ∗ It is recommended that you undergo regular examinations, including X-ray mammography. We recommend performing self-examination once a month, about a week after menstruation.
NOTE
Area where probability of breast-cancer occurrence is highest:

The area extending from under the armpit to the upper side area.

However, breast cancer can occur in any location within the breast, so be sure to palpate all over.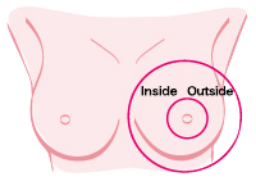 In Japan the Breast Care Glove has recently been applied in the following applications:
•

Government offices have distributed the product at events.

•

Insurance companies offer it as a premium good.

•

The product is sold at drug stores.

•

Pink-ribbon companies use the product in their CSR activities.

•

It is provided as a supplement to books and magazines.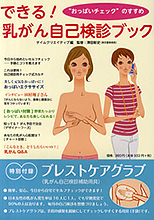 Now Recruiting Dealers
• The Breast Care Glove is international patent-pending, trademarked product in Japan and other countries.
ICST is actively seeking companies interested in becoming dealers for the Breast Care Glove. The Breast Care Glove.
is sure to find an enthusiastic reception in your country as a practical solution for raising awareness of breast cancer. For inquiries regarding the Breast Care Glove, please contact us as below.